Requirements for sign with Clicksign
Software requirements:
Operative system: Windows XP, Windows Vista, Windows 7, Windows 10 or Linux
To be able to sign with Clicksign you need to have a DIGITAL CERTIFICATE wich is our identifier. The digital certificate may be provided as software or hardware.
Recognized Certificate Services Provider relationship on the "Agencia Tributaria" web site
Software formatted digital certificate
Is distributed as personal information exchange format, commonly PKCS#12. That kind of files has the ".p12" or ".pfx" extension.

Hardware formatted digital certificate
It's a criptographic keystorage device. There is two types:
Samrtcard device
Criptographic Token
Samrtcard device
Seems like the banking cards but it has a criptographic chip that storages the digital certificate and his signature key safely.
The eDNI is an example of that kind of certificates.


You have to install the smartcard device drivers before you can use it with ClickSign. Each model of samrtcard has its own drivers.
To obtain another smartcard device different than eDNI contact with a recognized Certificate Services Provider.
See all recognized CSPs by the "Ministerio de Industria, Turismo y Comercio" (Mityc)
Criptographic Token
They are USB criptographic devices that can be connected to your PC wich storages the digital certificate and his signature key safely.
The advantage is that with Tokens you do not need an smartcard reader.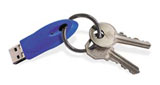 Is neccessary install the Token drivers to be compatible with Clicksign
Smartcard readers
Is a PC device that reads smartcards like eDNI. there are different kinds of smartcard readers like the following examples.
| | | |
| --- | --- | --- |
| USB | PCMCIA | Keyboard integrated |
| | | |